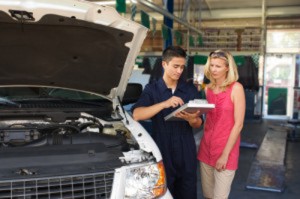 Auto repair complaints are quite common with so many bad players entering the business. With these players in the industry, trust may be a far-fetched word among customers who want to take their car for repair to a body shop. Everyone wants to work with an honest mechanic that they can trust. However, there are ways to find a reliable car repair shop and you may need to do a little research of your own.
What is the right shop for you?
Which one would be the right body shop for you vary from one person to another and the kind of requirement that you have. In general, you need a car repair shop that is reliable and honest. There are ways to find out whether or not a car repair shop can be trusted. Let us take a look at the top 7 steps to be aware of:
1.    Research: This is the first and most reliable way to find out more about a company. Do not start your research right when you are in need of a body shop but start a little ahead so that you know whom to contact when you have a flat tire or have to get your car to a repair shop immediately. You can avoid costly repairs if you get your research done a little ahead of time. When you most need to take your car to the repair shop, you may not have too much time to do the research then and may end up paying far more than you actually need to.
2.    Ask for references: When you zero down on a body shop(s), ask them for references. Call those references to cross check with them regarding the services that the company provides. Would you walk into a doctor's chamber for a check up before finding out how good the doctor is? Similar is the case with a body shop.
3.    Consult family and friends: Your friends or family can refer good body shops/repair shops to you. Ask them if you are not sure about which company you should take your car to. You may have discussed with your friend or family when you bought your car, so why not discuss with them when you want to locate a repair shop. They may be able to help you.
4.    Check with the Better Business Bureau: The BBB will have information on the reliability and performance of a repair shop before you can get the repairs done.
5.    Don't look for price alone: It is important that you do not look for price alone when it comes to repairing your car. You are not only paying for the car and the parts that are replaced but also for the technical expertise and the professionalism that the car repair shop shows. So, price should not be the only prerogative when it comes to choosing a car repair shop.
6.    Look for national warranty program: This is a good choice for those of you who do a lot of traveling. There may be some shops that are backed by a national warranty program and if you travel incessantly, this might be the right choice for you.
7.    ASE certification: The automotive technicians must undergo training and testing every 5 years in order to maintain their ASE certification. This is a fact that may are not aware of. You must find out if the technicians where you are getting your auto repaired, has ASE certified technicians.
GD Star Rating
loading...